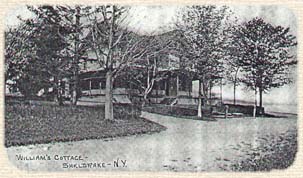 Silver Strand was given it's name in 1883 by its third owners, Douglas Boardman, first dean of the Cornell Law School and Josiah Williams, founder of the First National Bank of Ithaca. The families were related through marriage. The Boardman's only child, Ellen, was named for the heroine in William Scott's LADY OF THE LAKE, a very popular book of the times. Silver Strand is the name of the beach on Lake Katrina, in Scotland, where Ellen met James and their love began. We have an original printing of this book.
We believe the house to have been built in 1847 and represents the first dwelling in the neighborhood of non-natives. The growing Boardman/Williams family eventually built "Luckystone" and "Driftwood", our neighbors. Most of Sheldrake Point is constructed of "fill" brought in by horses. You will note that the front of Silver Strand faces the point, which was only 100' away at the time of construction.
The area was only serviced by the steamship "Frontenac" for many years and in the 1930's was home to several large hotels that catered to the diplomatic corps from New York City. Our street has been home to the Westinghouse family and Rod Serling. Most of the older homes have been lovingly restored and it is very pleasant to walk along the water's edge and appreciate the quiet beauty of the period boathouses and gardens.
Ask Maura or Skip to share with you the many photos, diaries and stories of life in the late 19th century. The owners took the stagecoach to Alaska in the 1800's... quite a story. Several of these descendents still inhabit the neighborhood.