There are so many things to do it seems hard to begin. The natural beauty of the area is our favorite. We are in the midst of beautiful lakes that were formed by the recession of the Polar Ice Cap. Most are crystal clear and very deep. Our lake, Cayuga, is 41 miles long, 2.5 miles wide and over 430 feet deep. It provides the drinking water for the surrounding inhabitants. Walking along the edge and appreciating the unspoiled beauty; the sounds of local birds; the lack of people, boats, and cars all provide a relaxing atmosphere. Silver Strand offers complimentary bicycles along with a rowboat and two-person kayaks.. Many ideas can be found at www.senecachamber.org or www.nycanal.com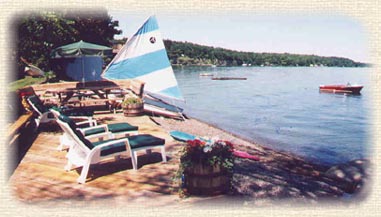 The lakes are ringed with thousands of waterfalls and scenic gorges. The most spectacular are protected in the areas' numerous state parks. Most noteworthy are Watkins Glen State Park, Taughannock Falls State Park, Robert Treman State Park and Buttermilk Falls State Park. We are also neighbors of New York's only National Forest; Finger Lakes National Forest. www.nysparks.com and www.fs.fed.us/r9/gmfl
The Finger Lakes region is the largest wine production area outside of California. Over 50 individual wineries offer something for everyone. Our most local include Sheldrake Point, a 5-minute walk, Hosmer, Cayuga Ridge and Lucas, each a 5-minute car ride or 30 minute bicycle ride. There are ten more within 15 miles. We are in the middle of the Cayuga Lake Wine Trail and adjacent to the Seneca Lake Wine Trail. We are both very knowledgeable regarding local products and can steer you to some great wines!
Fishing, boating and swimming are all done at your front door. We highly recommend a ride on the "Special". We also offer complimentary use of a 14' aluminum rowboat, a Sunfish sailboat and a two-person kayak. Fishing for bass, perch and panfish happen at the end of our new 100' dock. Charter fishing can be easily arranged with trout and salmon available to trollers. We have excellent swimming with a deep-water dock for divers and barefoot beach for waders. A comfortable sundeck with cushioned chaise lounges is at water's edge. Your privacy is assured with multiple, separated seating areas.
Our family is full of race fans. Nearby Watkins Glen is a popular destination. Home of the US Grand Prix for 30 years, it is currently more famous for popular NASCAR events, including Winston Cup. Road racing, vintage events and SCCA regional racing make for a full schedule.
Corning Glassworks is a very popular attraction that includes a modern tour, a glass blowing display and the Steuben Museum and GIFT SHOP. Niagara Falls and the Baseball Hall of Fame in Cooperstown are each about a 2.5-hour drive, if you have the time.
Local golf is flourishing with smaller crowds and lower fees than you probably see at home. Public courses with 10 miles include Hillendale, Trumansburg (607-387-8844) and Bonavista (607-869-5482). You may contact them directly regarding price and availability. Ithaca, 22 miles away, provides even more opportunities. Tennis is available for free at the local schools. The courts are new and available.
Ithaca, home of Cornell University and Ithaca College, supports a very active summer theater program. The Hangar Theatre is a favorite.
The north end of Cayuga Lake is home to the Montezuma National Wildlife Refuge. Off your own porch you can see/hear loons, blue heron, frigate birds and we have recently and repeatedly seen a bald eagle 50 feet from the house. Most recently, it was carrying a Canada goose in its claws. That's a sight!! Also at the north end of the lake is Seneca Falls, home of the National Women's Hall of Fame and the Women's Rights National Historical Park. Both offer historical perspectives and memorabilia of Elizabeth Cady Stanton and Susan B. Anthony.
The north end is also home to the Finger Lakes Outlet Mall, featuring over 100 stores.
Around the east side is the scenic lakeside village of Aurora, home of Wells College and Mackenzie-Childs, manufacturers of highly eclectic art/craft items. Their major outlets include Neiman Marcus, Saks, Lord & Taylor, etc. Their tour and gift shop is like a trip to "Oz". Must See!
Antique shops abound with over 100 choices within 30 miles.
Cornell University is a destination in itself. Popular attractions include the extensive gardens at Cornell Plantations; the Ornithology Museum at Sapsucker Woods; the Johnson Art Museum, designed by I.M. Pei; numerous gorges and waterfalls; and athletic events.
Bicycling has become very popular. Complimentary bicycles are available for the 2-mile ride along the lake's edge. More ambitious riders bring their own and appreciate the gentle inclines, lack of vehicular traffic and constant scenic vistas.
If you have a hankerin' to get down on the farm, you can take tours of the local pig farm, ostrich farm or goat farm. There is also a nearby "farmers market" featuring area goods including quilts and other items made by the local Amish population.
Rose Hill Mansion and The Peter Witman Farm add to your appreciation of the historical importance of this region.